By now, you have probably heard of SEO keywords.
But if not, no worries! Check out our article On-Page SEO Basic to learn more.
Keywords are the meat of your overall SEO strategy. Yes, there are other important parts, like linking and formatting, but you won't see positive results without using the right HVAC keywords. 
So, how do we identify the best HVAC keywords to use?
Here's the thing: after working on dozens of HVAC websites, we have insider knowledge of what the correct keywords are that will drive new business for our clients. Keyword research is a great way to start investigating keywords, but at the end of the day, you won't know how keywords will impact your business until you rank for them. 
We're able to use real data from call tracking to know which keywords our clients must rank in order to increase their market share of heating and cooling jobs.  
At PMNow, we use a powerful keyword research method to find find the right set of HVAC keywords for each client.
Learn How To Set Up Call Tracking On Your HVAC Website!
SEO Tools
There are a ton of SEO tools available online. We prefer to use ahrefs.com because the interface is user-friendly.
This SEO research platform allows you to search for different HVAC keywords in order to determine which ones are the best to target within your website. We start by entering well-known HVAC keywords into the search bar.
When searching HVAC keywords, you will notice three ranks: low, medium, and high. It's best to focus your efforts on medium keywords because ranking higher is obtainable. Keywords that are ranked as high tend to be on large websites that overpower the market, and low ranking keywords aren't worth the effort because they won't help your website's position.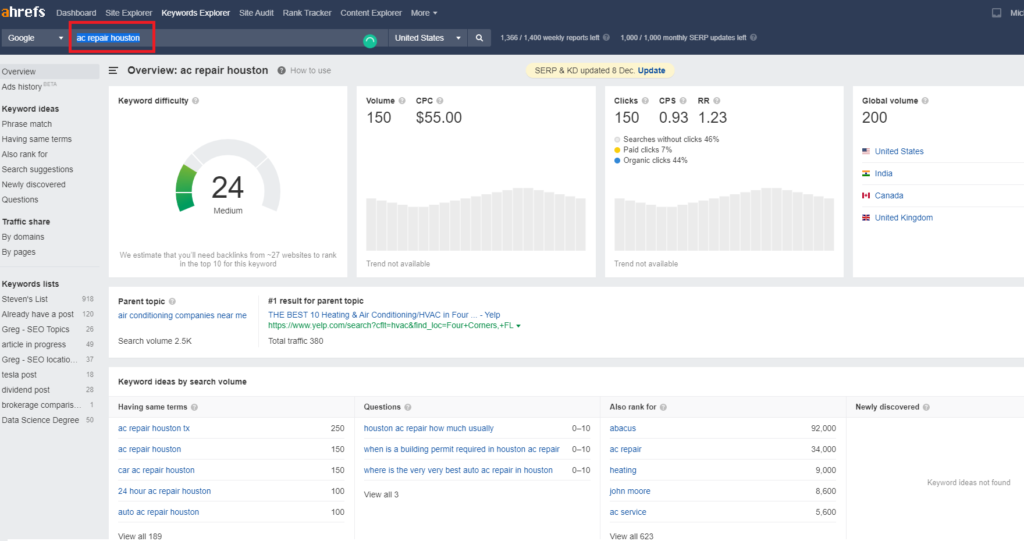 Learn more about On-Page SEO Basics today!
Reverse Engineer
Use your competitors to your advantage!
Have you heard the saying, keep your friends close but your enemies closer? Well, it's a good marketing strategy.
Why?
No single HVAC business uses the best SEO keywords, so it's smart to see what others are choosing to input within their website. This is another feature that ahrefs.com offers. We can search competitor URLs and determine what HVAC keywords are ranking the highest on their pages.
To find your HVAC counterparts, all you have to do is search for HVAC services in your area and see what company websites pop up in the search results.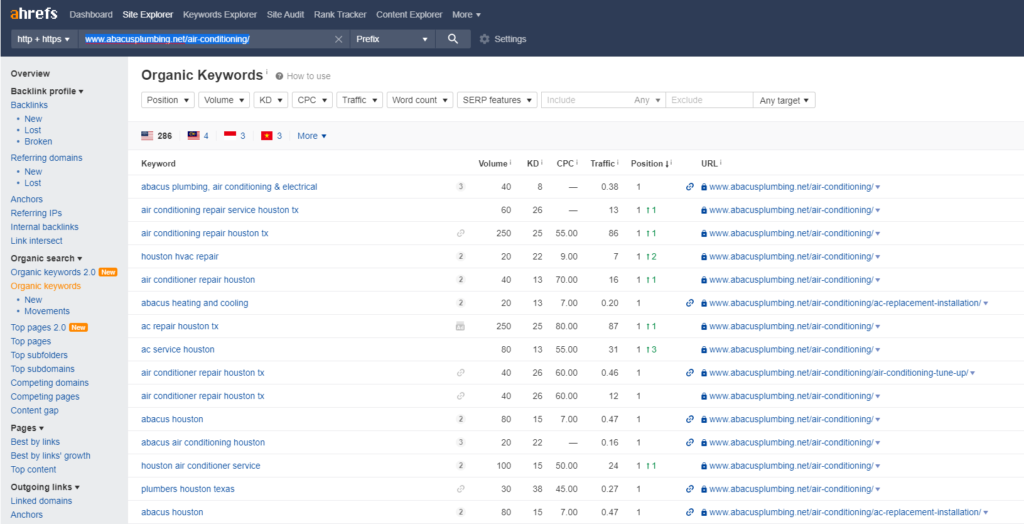 Read about the Top 5 Elements of Great HVAC Websites!
Google Suggestions
Once we have enough broad keywords and have search competitors, we use Google suggestions to find long-tail, low-competition keywords, while also working on prominent search volume keywords that will bring in more call volume for our clients in the long-run.
Using the technique is super easy to do! All you need to do is start typing an HVAC keyword into the Google search bar and see what comes up in the menu below. This a great way to find low-competition keywords.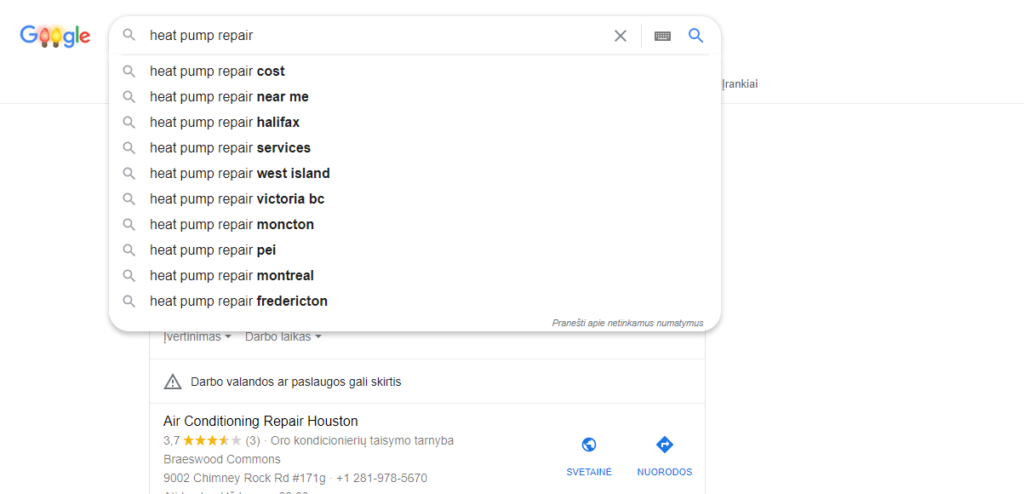 We also use Google's related searches at the bottom of the search results to find more variations of HVAC keywords.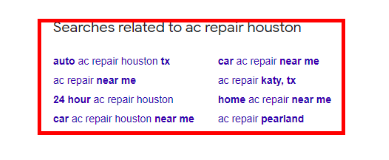 Learn how to use Location Pages to Rank Throughout Your Service Area!
Google Trends
The final step is using Google Trends to help find trends relating to HVAC keywords. This is done by looking for recent spikes in demand and searches for specific keywords. 
These spikes in demand are usually influenced by local or worldwide events, including the most recent spike for air purifier keyword searches due to the COVID-19 pandemic.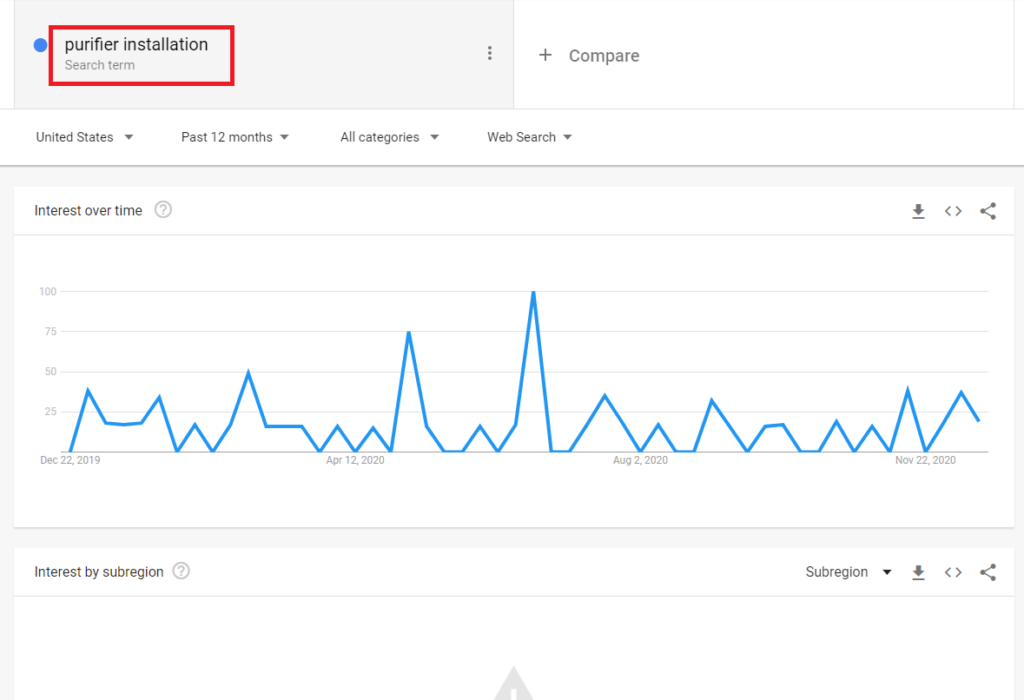 Are you starting a new HVAC business? Read about the best marketing strategies for the first 18 months.
Keyword research is a necessary step in your overall marketing strategy. But remember, you don't have to go it alone because PMNow is here to help take your HVAC business to the next level.
At Proven Marketing Now, we can help determine the best marketing strategy to help your business grow. Contact us today to set up an SEO audit!