When you're just starting out, lead generation can be a slow and challenging process. Luckily, there are vendors available that will give you the ability to pay for leads.
Lead vendors are a savior for new HVAC businesses.
However, this should only be used as a short-term lead generation strategy.
It's kind of like high school: it was a great time, but you don't want to stick around there forever. In short, learn what you can and graduate to the next level.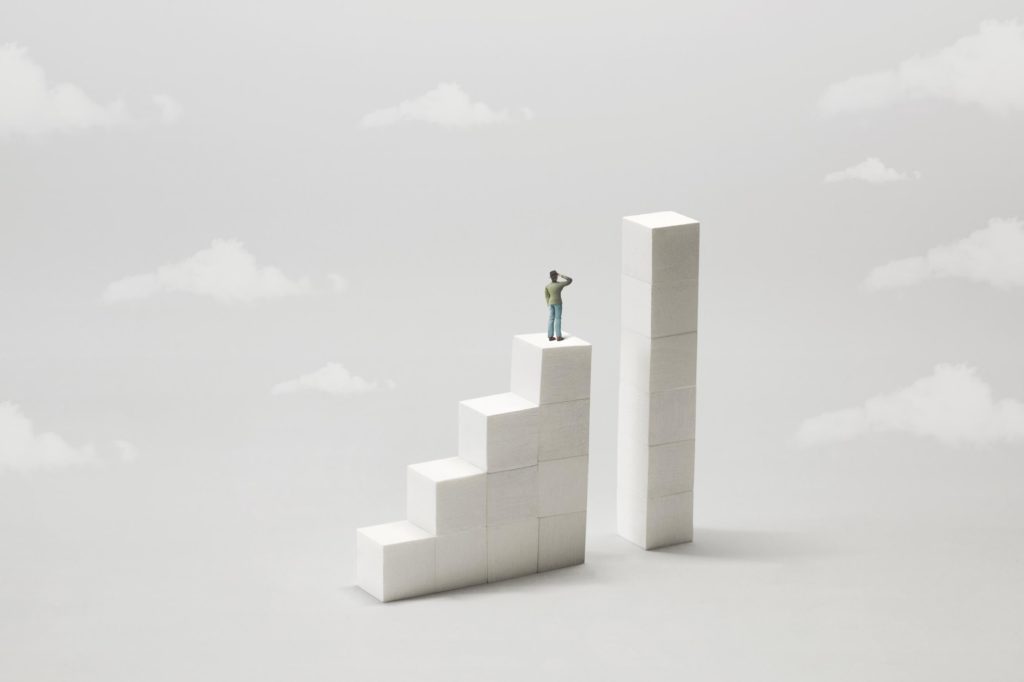 When used correctly, lead buying will give your new HVAC business a head start in creating momentum for success down the road.
Let's take a moment to break down everything you should know about lead vendors and lead buying.
Are you starting a new HVAC business? Read about the best marketing strategies for the first 18 months.
What Are HVAC Lead Vendors?
Lead vendors are companies that provide interested customers (leads) to businesses. They do the hard work of searching for potential clients for you. This is why lead vendors can be extremely helpful for new companies.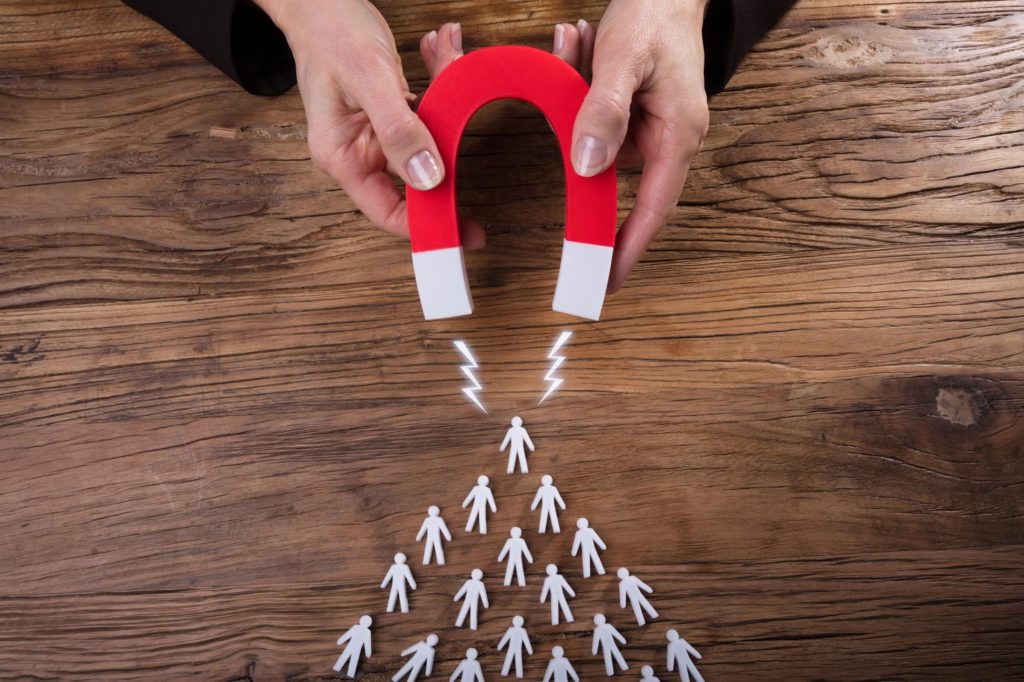 The cost of buying leads will vary. For instance, high ticket jobs will cost more, whereas low ticket jobs will cost less. The actual price tag can range from as low as $35 to as high as $250.
Without lead vendors, you would need to rely on word of mouth and your personal network. There is nothing wrong with these strategies. However, it will take a long time to generate consistent work. You could also try marketing your business aggressively, which will take time and money with no guarantee of return.    
Pros & Cons
As with every marketing strategy, there are advantages and disadvantages. It's always a good idea to have a diverse marketing plan. For new HVAC businesses, it's worth investing in lead buying. Here are a few considerations to think about: 
Pros:  
When buying leads through a vendor, you are guaranteed to receive customers who are interested in HVAC services.
Buying leads is an almost instant return on your investment. It's less of a waiting game compared to other lead generation strategies!
Cons:
A race to the bottom! You're competing against lots of other vendors and price shoppers.  
When a lead is sent, you will need to be available to answer your phone. This can be difficult if you don't have a dedicated person answering calls.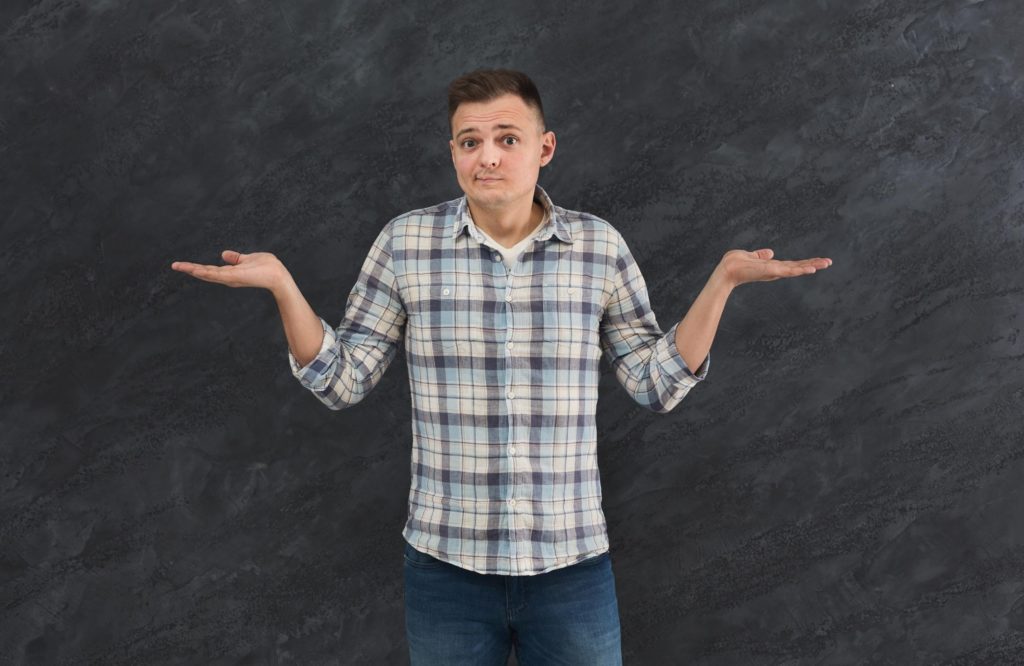 Don't let the disadvantages outweigh the benefits of lead buying when you're just starting. Just remember to use this strategy in the short-term and learn as much as you can. Then move on! 
Read about the Top 5 HVAC Marketing Tips & Tricks!
Who Are The Biggest Lead Vendors For HVAC and Are They Worth It?
When it comes to choosing a lead vendor, you do have options. Shop around a bit, search for vendors that offer an easy-to-use platform and excellent customer service.
Some of the top vendors for buying HVAC leads include HomeAdvisor, Thumbtack, and eLocal. Even though PMNow is not a lead vendor, we do offer a guarantee on the number of leads our marketing system will generate for your business.
Click here to learn about how you can get 45 Exclusive HVAC Install & Repair Leads Guaranteed or Your Money Back!

HomeAdvisor, formerly ServiceMagic, is an online platform that connects homeowners with HVAC and other service professionals. The company recently bought Angie's List.

Thumbtack lists many different services, including HVAC. They connect interested customers with local businesses.

eLocal generates tons of leads through social media, search, mobile advertising, and more. When a call comes in, it is directly routed to a local service professional.
Don't be afraid to experiment. Consider trying out multiple vendors until you find one that provides the best results.
How To Get Started
Once you have decided to try out lead buying, it's time to open an account. All of the mentioned lead vendors require a similar setup. So, let's look in-depth at Thumbtack as an example of how to create an account.
Here is an easy step-by-step guide for getting started:
1. Sign Up For Thumbtack
Head to thumbtack.com and click on Join As A Pro in the top right corner.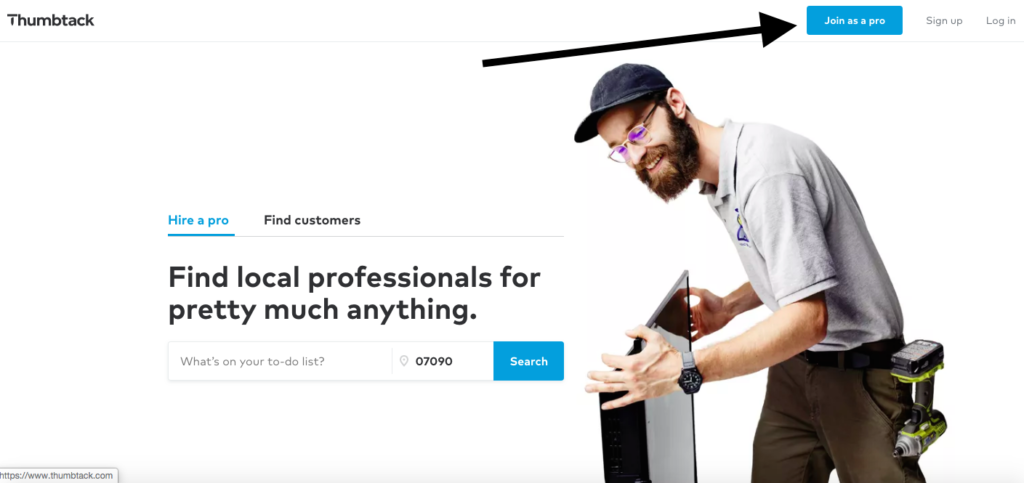 2. Select The HVAC Services That You Offer
On the next screen, it's important to search the correct term relating to the services that you offer, along with the location of your business. As an HVAC professional, it's best to type in HVAC Specialist because this will include lots of service options.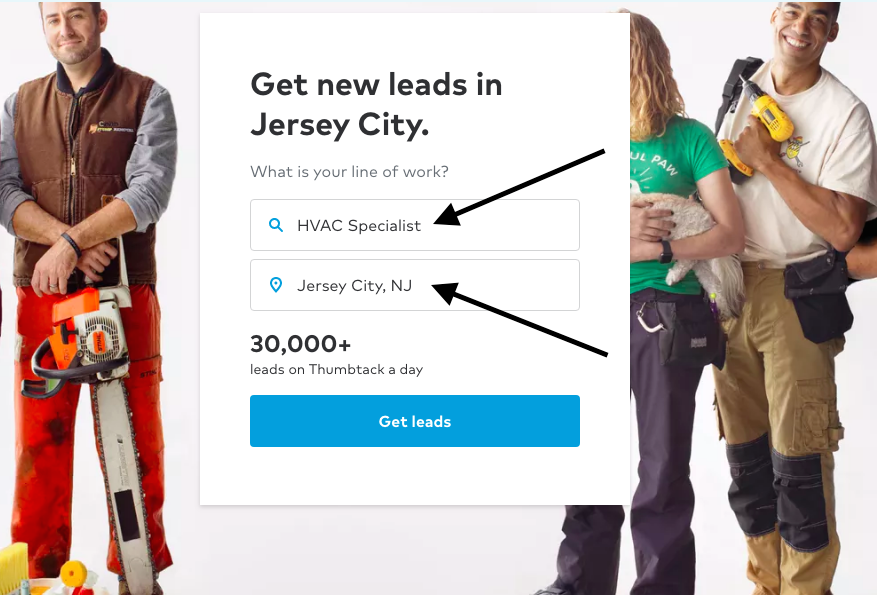 3. Narrow Down Your Service
Select all of the HVAC services that you offer and click Next.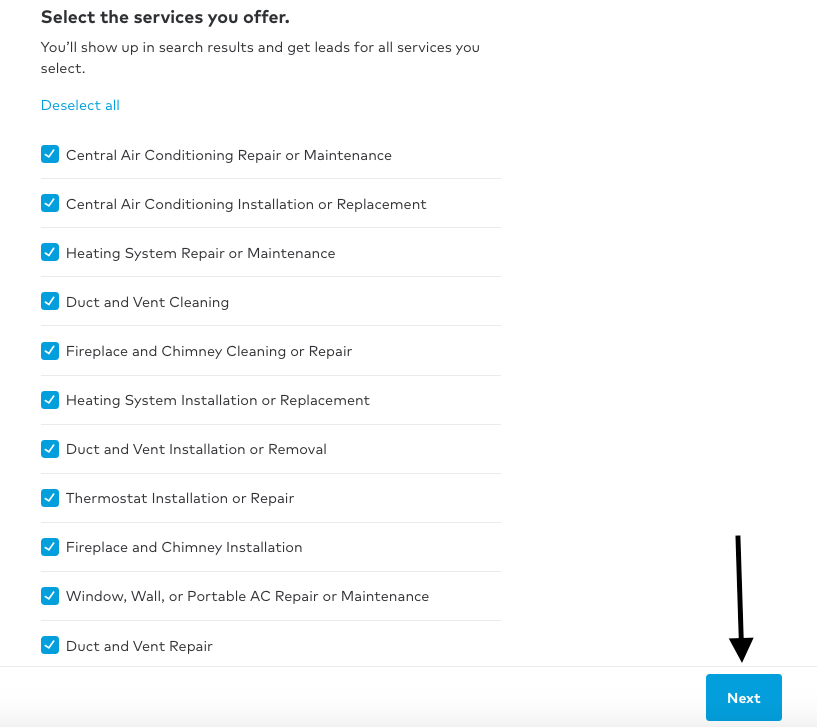 4. Where Are Your Customers
Choose the options for how you work with customers, including I travel to my customers, My customers travel to me, and Neither (phone or internet only). For HVAC service professionals, the best option will almost always be, I travel to my customers. Next, you will have to enter your zip code along with how far of a radius you are willing to travel.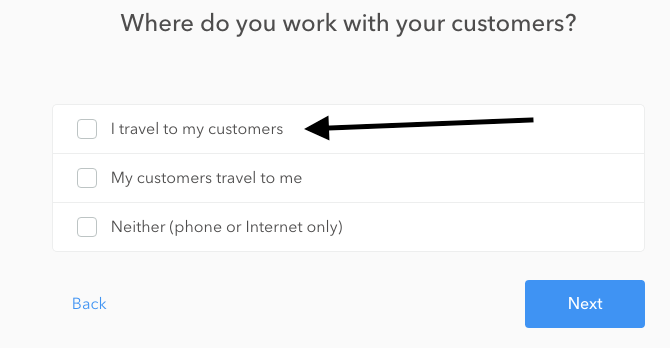 5. Create Your Account
At this point, you will have the option to create an account using your Facebook, Google, or e-mail. Enter your credentials and click Sign Up.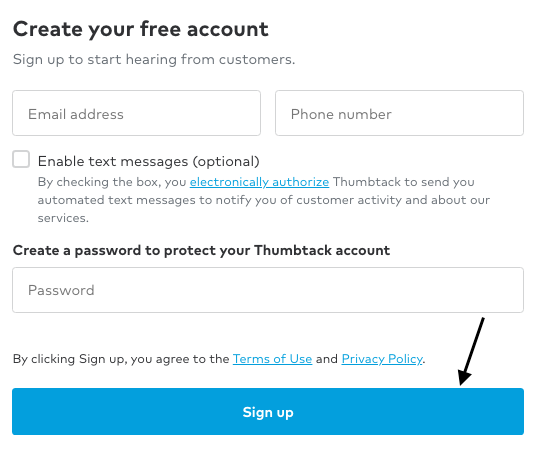 6. Complete Your Profile
Once your account is created, the last step in the process is completing your profile. Making sure your profile is filled out 100% is the most important step. So, give yourself enough time to fill out all of the required information.
Here is a brief overview of how to complete your profile:
Explain Your Business.

Add your business name and then answer a few questions about your services. This is an excellent place to discuss your passion for HVAC and how your business stands out from the rest. Also, talk about the way you treat customers.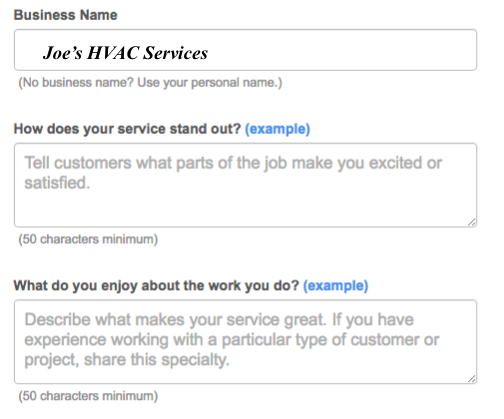 Add Personal Information.

Anyone signing up for a pro account must provide the following personal information. Don't worry, your date of birth and address will not be shared with customers.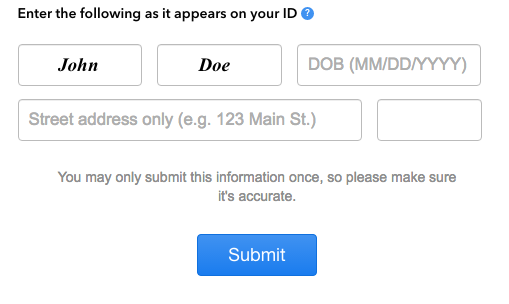 Upload Logo or Photo.

Don't leave this part blank. Customers will trust your profile more when you have an image uploaded. Feel free to use a business logo or photo of yourself.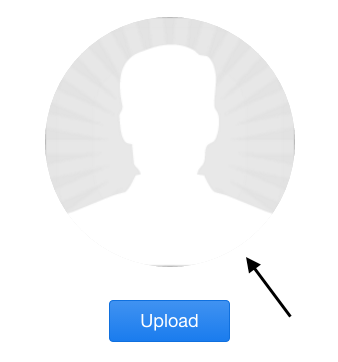 Share Customer Reviews.

Let past customers add reviews to your profile through a custom link or e-mail.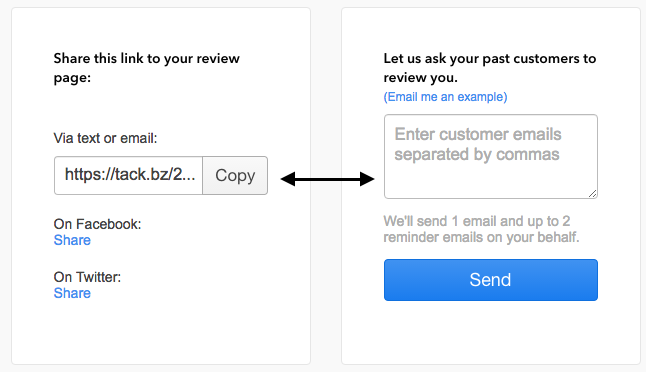 Now that your account is up and profile is complete, you can begin receiving leads and sending out quotes. Again, consider trying multiple lead vendors until you find one that provides all of the services and features your business needs to grow. 
Remember, buying leads is great for new HVAC businesses trying to find consistent work, but it's not a long-term strategy. Once your HVAC business is more established, you can switch to generating leads on your own through SEO and social media.
At Proven Marketing Now, we can help determine the best marketing strategy to help your business grow. Contact us today to set up an SEO audit!