How to Easily Add a Health Notification to Your Website
The world is spooked right now about the coronavirus.
As HVAC contractors, who enter people's homes, it's especially important to be mindful of concerns customers may have.
Setting up a notification on your website is a simple way to communicate your sanitation efforts.
Best of all, these notifications can be setup within minutes with a simple WordPress plugin. 
Using a Cookie Notice Plugin for Every Notice
Over the last few years many plugins have been created to support European laws around website tracking and cookies.
These plugins are lightweight and can be used for any type of notification you want.
This site uses the Cookie Notice Plugin which has many customization options.
Key Features
Ability to display notifications on top or bottom of website.
Ability to link to supporting pages.
Let's you customize colors.
Free to use
Downloading Cookie Notice for WordPress
Login to your WordPress dashboard, click "plugins", click "add-new".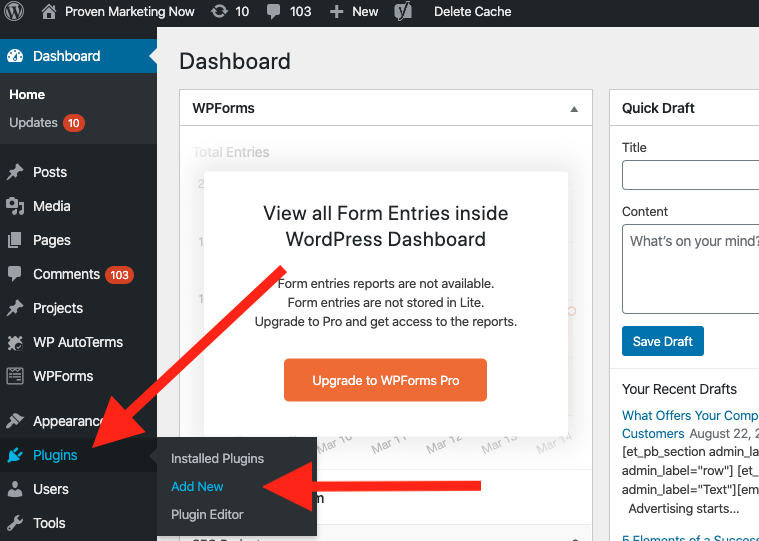 On the following screen type in "cookie notice" in the search bar. Then select the plugin that says "Cookie Notice for GDPR & CCPA". You'll notice it has more than 1 million active downloads and over 2,400 five-star reviews.
Click "Install Now" and then "Activate".

Customize Your Notifications
From the WordPress Dashboard click on "Settings" and then "Cookie Notice".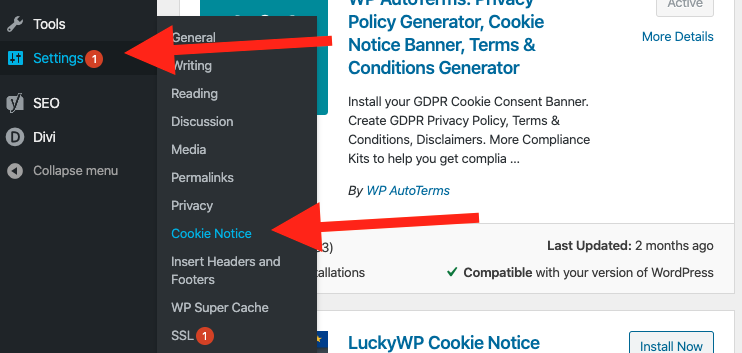 Your Notification Message
Next to "Message" you can write whatever notification you deem appropriate for your area and market.

Button Text
You can customize the text on the button that will make your notification disappear.

Privacy Policy
You can click "Enable Privacy Policy Link" if you want to redirect users to another page on your website.
Many local businesses have created new pages on their websites which go into detail explaining what they have done in response to the COVID-19 threat (more on that below).

Colors
On the bottom of the plugin you'll see options to change the Text Color and Bar Color of your notification.
Click "Save Changes" and you're done!

Please note it sometimes takes a minute or two for the plugin to refresh. You will need to use a new browser, with no cookies, in order for you to see the notification live on your website.
Your "Learn More" Page
Here are some images of emails and social media posts my team has recently seen involving small businesses and the coronavirus.
What I like about all these messages is that they convey a sense of personality that's appropriate to each business.
(Breakfast Restaurant)

(Barber Shop)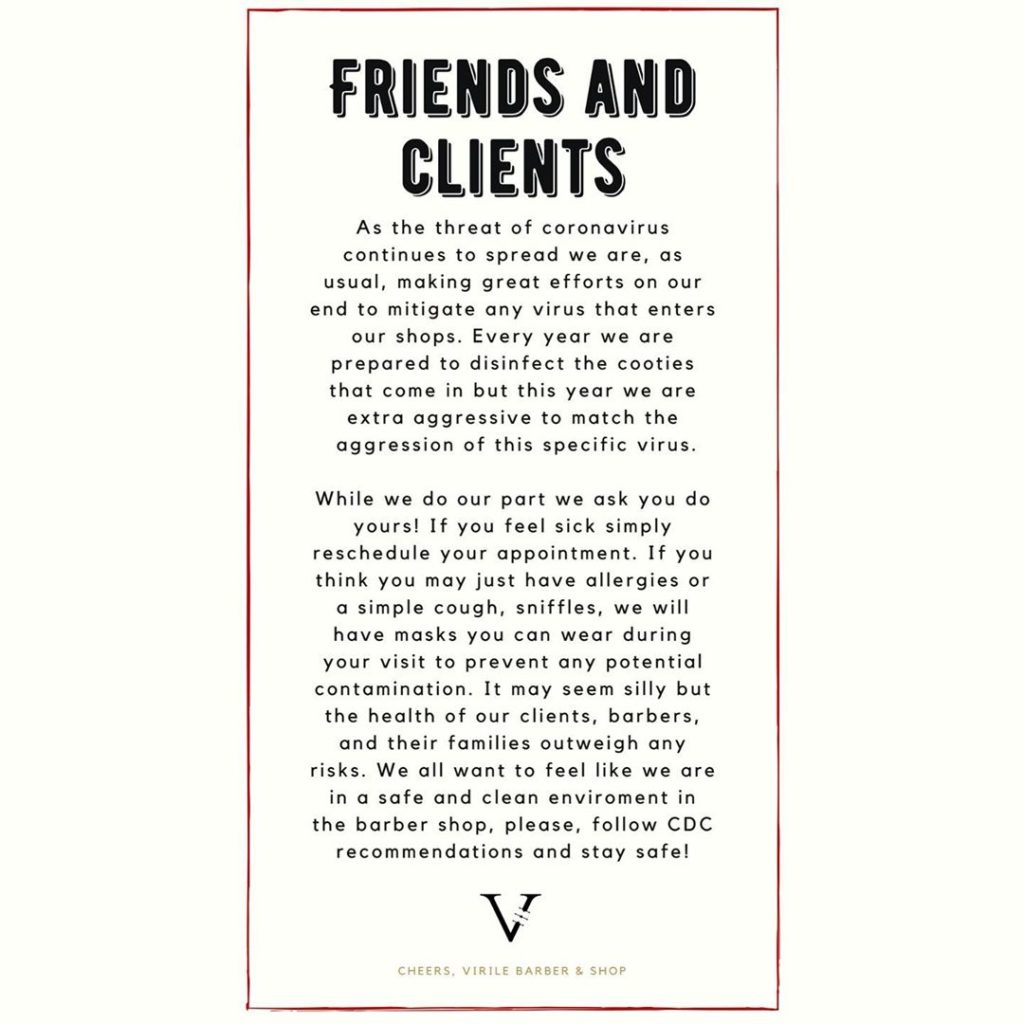 (Brazilian Jiu Jitsu School)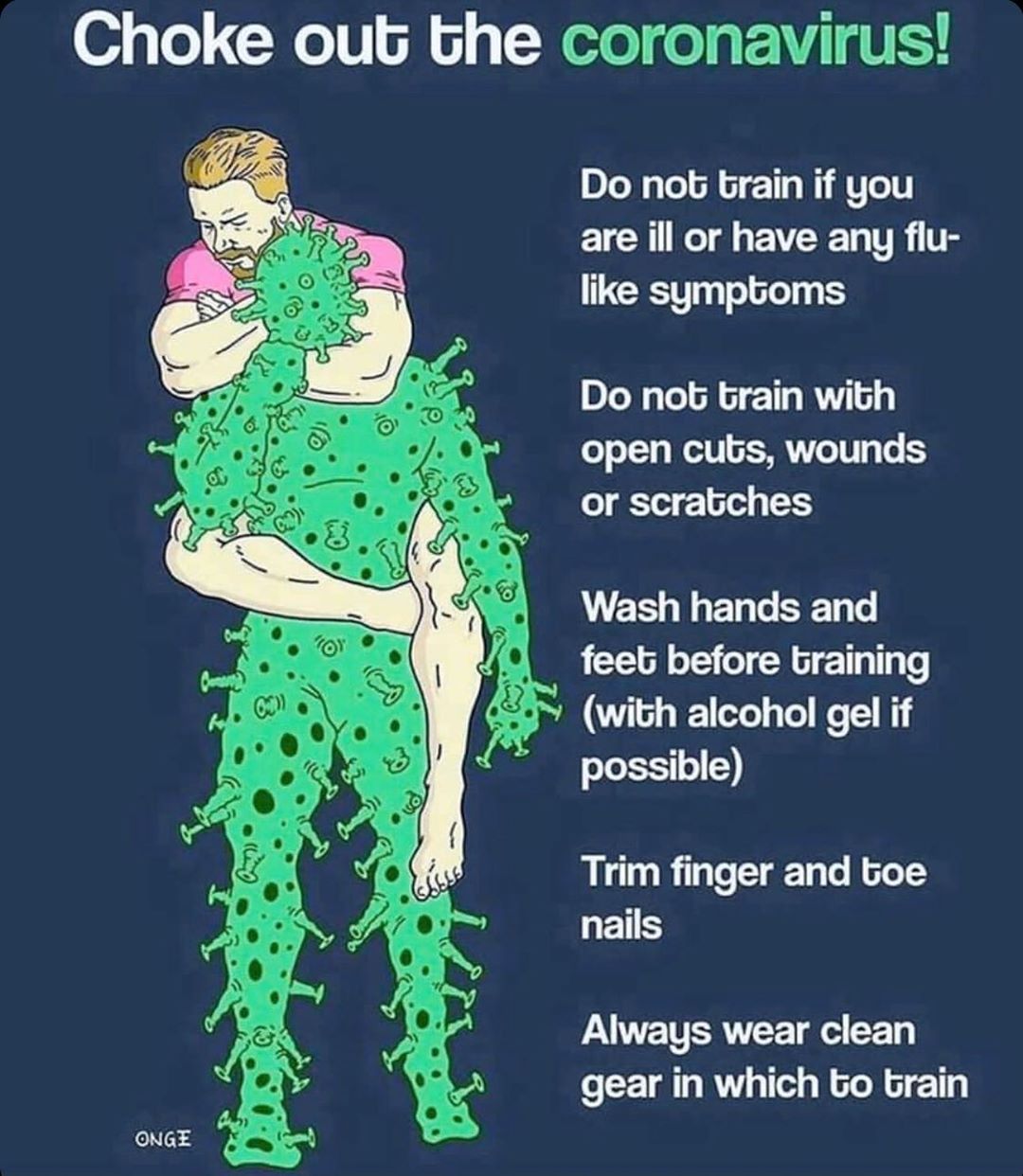 HVAC Example
NOTIFICATION BAR
COVID-19 Announcement: At Your-Company, the health and safety of our clients and employees is our top priority. We remain committed to serving our community throughout the COVID-19 pandemic, and have taken extra measures to protect your health & safety. Learn more by clicking here.
NEW COVID-19 PAGE
Your-Company COVID-19 Update
We understand plumbing, HVAC and electrical emergencies can happen at any time, including during a pandemic. Recognizing the ongoing and increased uncertainty that coronavirus (COVID-19) is causing both in the Hudson Valley and around the world, our highest priority is the health and well-being of our clients and employees. With that in mind, we wanted to update you on the actions Your-Company has taken in response to the outbreak to protect our employees and clients and continue our efforts to serve the community to the best of our ability.
Any and all Your-Company staff who are symptomatic will be asked to stay home.
Our Customer Service staff will be asking all clients if anyone in the home or business has been symptomatic (cough, fever, shortness of breath). At this time, we're limiting our contact with symptomatic clients in an effort to reduce the possibility of spreading illness to others, per CDC recommendations.
Our field staff will be utilizing protective gear (gloves, booties) in all homes and utilizing recommended hygiene standards, including: regularly washing & disinfecting hands; wiping down work spaces, iPads and vehicles between every service call, limiting physical interactions with customers (no hand shaking, sorry!) and keeping a safe distance from others.
Your-Company will continue to operate as scheduled, including 24/7 emergency service. Our focus is to ensure we are available to meet our client's needs for as long as possible, while also doing our part to keep our community safe and maintain the lowest health risk possible. We will continue to closely monitor the situation as it unfolds, and adjust our operating plan as necessary.
Tastefully Promoting Indoor Air Quality
Many people will want to increase their air quality in times like this.
Promoting your services in "troubling times" can be extremely distasteful and your business can appear tone-deaf if you do this incorrectly.
One email I've recently received from Verizon, I believe, hits the right note of concern while highlighting a product they offer.
Here is a screenshot of that message: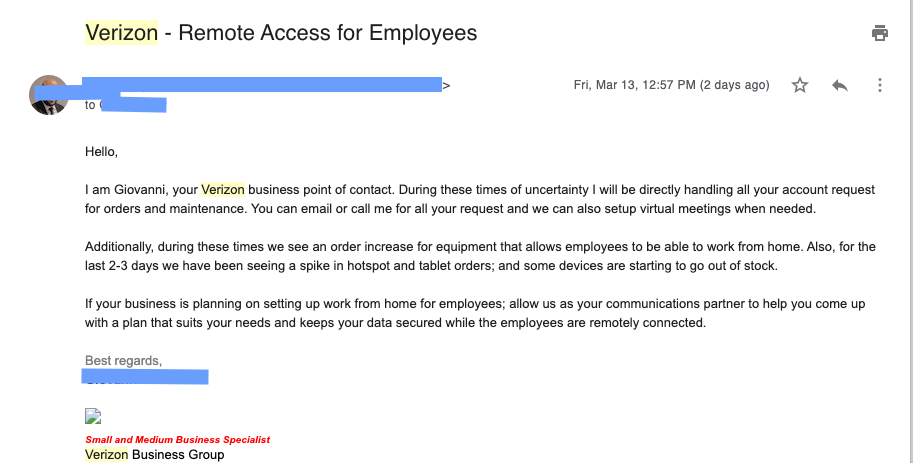 This type of message is perfect to let your customers know about the air quality solutions you offer.
Wrap Up
Watching the news about what's happening in our country and abroad can be troubling.
As small business owners, we are the bedrock of the American economy. It's important for us to respond tastefully to the threat we face. We need to keep our employees and customers safe and healthy.
Communicating to customers online is a great way to build solidarity in the country, to humanize your business, and put people at ease.
In my opinion, it also just happens to be the right thing to do.